Those Purple Lights
Thank you to the Brisbane City Council, Cairns City Council and Cairns Reef Casino for their support and turning the towns purple for WEAAD.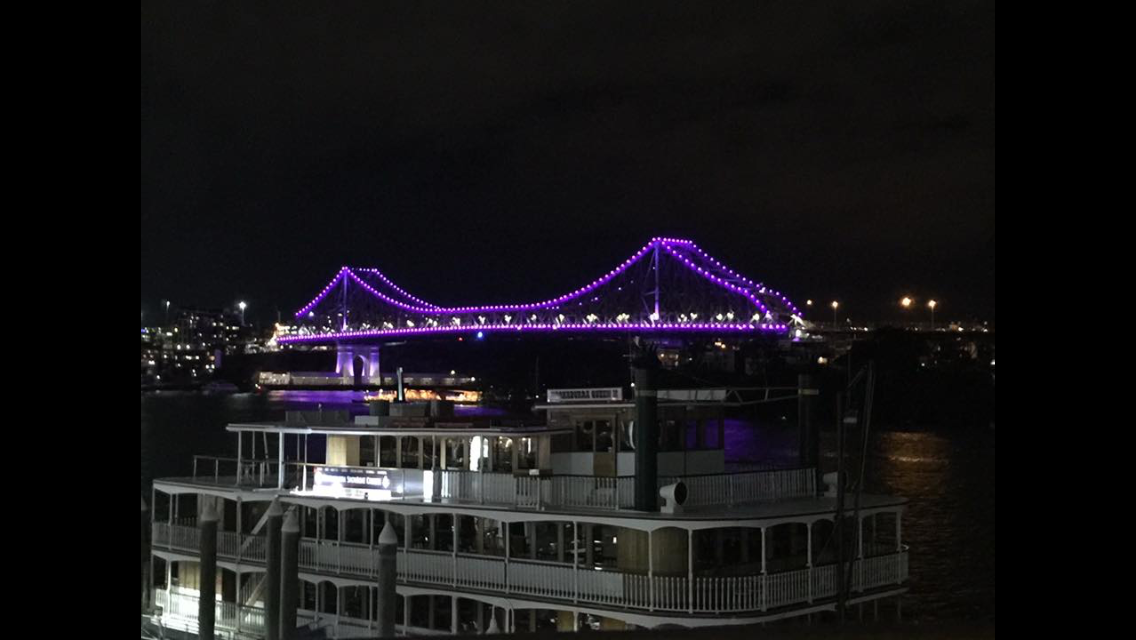 Thank you Shele Mutti for the photo contribution.
Queensland Police Services Open Doors, Act Now, Break the Cycle Project
The new project, Open Doors. Act Now, Break the Cycle, was developed by Logan District Police and seeks to educate the CALD community in areas of domestic and family violence through the use of an educational video that has been translated into eight predominant languages in the Logan community: English, Arabic, Burmese, Farsi, Kirundi, Mandarin, Tamil and Vietnamese.
The video includes information on domestic violence, police involvement, court processes and support services and will be disseminated to the CALD community through local stakeholders including Access Community Services, MultiLink Services Incorporated and the Logan City Council.
There's No Excuse for Elder Abuse Campaign
The Queensland Government through the running an Elder Abuse Awareness Campaign to raise awareness of the issue in Queensland.
There is lots of useful information on the campaign website as well as a striking video.
Australian Law Reform Commission - Call for Submissions into the Elder Abuse Inquiry
 Release of Elder Abuse Issues Paper (IP47)
Each year 15 June marks World Elder Abuse Awareness Day (#WEAAD), intended to raise awareness of elder abuse internationally and highlight ways to challenge it. Marking this important date, we are releasing the Issues Paper for the ALRC Inquiry into Elder Abuse and Commonwealth Laws, an important Inquiry milestone.
Make a Submission
IP47 is the first consultation document for the ALRC Elder Abuse Inquiry. We encourage individuals and organisations to make submissions in response to specific questions, or to any of the background material and analysis provided.

The closing date for submissions is 18 August. 

The ALRC is keen to hear perspectives on Elder Abuse from diverse communities, and to that end has produced information about the Inquiry in 20 community languages.

We prefer to receive submissions via the online form on the ALRC website, but also accept submissions by post and email. 
Helpline, training and awareness services
The Elder Abuse Helpline promotes the right of older people to live free from abuse. It was established in 1997 to provide a state-wide service to respond to the abuse of older people in Queensland. It operates under UnitingCare Community and is funded by the Department of Communities.
For further information please phone 1300 651 192 or contact us online.
Community Education
CPD Accredited training with Australian Community Workers Association - 1.5hr = 1 PD point.
http://www.acwa.org.au/BookingRetrieve.aspx?ID=185337
FREE information and awareness sessions for seniors groups throughout Queensland. If you are interested in booking a session please call our Helpline.
FREE training for service providers working with older people. Please contact the Elder Abuse Prevention Unit for topic details and/or to book a session.
Rural and remote services who would like to organise training are encouraged to contact the EAPU and negotiate sessions to ensure they receive the times and dates they would like.  Membership of the multidisciplinary Peer Support Network (PSN) is available  for rural and remote workers.  PSN members recieve

priority

for training when regional travel is booked and for webinar participation.
For services in the Brisbane, Gold Coast, Sunshine Coast and surrounding areas, please contact us at your  convenience if you wish to organise a  session.


Recently Added:
2015-2016 Highlights Report
The Highlight Report is a condensed summary of the key statistics collected - download.
2014-2015 Year in Review and Highlights Report
The latest EAPU Year in Review is now available for download.  The report includes a thorough analysis of elder abuse as captured through our helpline.  Calls to the helpline are anonymous and only non-identifiable data is collected. 
The Highlight Report is a condensed summary of the key statistics collected - download.
National Elder Abuse Report 2014-2015

The National Elder Abuse Annual Report provides a brief summary of statistics and case studies from key elder abuse agencies from around Australia.  Past editions are available by contacting the EAPU on eapu@uccommunity.org.au or 1300 651 192.  The report was prepared by Advocare in Western Australia. 
New EAPU research report - The EAPU Helpline: results of an investigation of five years of call data
This report by Ceallaigh Spike, UnitingCare Community EAPU Project Officer (Research & Systems) investigates five years' worth of Helpline data in search of patterns.  The report does find consistencies over time for age and gender although it suggests that elder abuse in older age groups may not be as gendered as spousal abuse.  Drilling down into abuse types and relationships indicates that elder abuse is a different construct to spousal abuse.  A change in the patterns of two abuse types over time reveals that sons and daughters are becoming more alike in their patterns of abuse.  Read/download the full report here.

A "Wishlist" for a Prevalence Study
The EAPU Reference Group Research Subgroup final report on a proposal for a Queensland prevalence study. 
Click here for the full report

4th Elder Abuse National Conference 2016
Seniors Rights Victoria are hosting the 4th Elder Abuse National Conference in Melbourne between 23 and 25 February 2016.  Keynote speakers are Prof Marie Beaulieu from Sherbrooke University, Canada, and Dr Jacki Berman from New York City Department of the Aging.  For more information and to register visit the conference website www.elderabuseconference.org.au
UnitingCare Community submission to the Domestic and Family Violence Taskforce on elder Abuse
The UnitingCare Community's Elder Abuse Prevention Unit prepared a submission for the Domestic and Family Violence Taskforce chaired up by, former Governor General, Dame Quentin Bryce.  The submission raised issues including the cost of elder abuse and the need for a targeted and coordinated approach to prevention, the need for existing legislation to be reviewed and strengthened and a prevalence study to identify a baseline for service delivery and impact of services on the elder abuse.  Click here to read the full submission.
Donate to the Elder Abuse Prevention Unit
Click the link below and choose "Elder Abuse Prevention" from the "I would like to make a donation to" drop-down list.
Definition
"Elder Abuse is a single or repeated act, or lack of appropriate action, occurring within any relationship where there is an expectation of trust which causes harm or distress to an older person"
The Elder Abuse Prevention Unit is funded by the Queensland Government and auspiced by UnitingCare Community.